Scotland
Scotland, part of the United Kingdom and home to the fabled Loch Ness Monster, is often overshadowed by its neighbor England. However, it is a very exquisite and fascinating area that boasts its own cuisine, traditions and folklore. Its capital city, Edinburgh, is the second most popular tourist destination in Britain.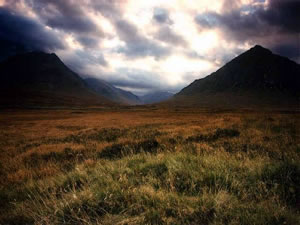 scotland
The natural scenery of Scotland is breathtakingly beautiful. The atmosphere is rugged and wild, boasting beautiful cliffs and waterfalls as well as pristine lakes and hills. Scotland has a rich history, and everything is connected to it – battlefields and historical points of interest are very common.
Scottish food as a whole is very hearty and traditional, and Scottish whisky is very popular. As for entertainment, traditional dancing is widespread. A Ceilidh (pronounced kay-lay) is an informal night of singing, dancing, eating and drinking. Festivals, and other events are also popular–Halloween originated in Scotland, for example.
Here are some helpful Web sites for you to check out if you're interested in visitsing Scotland:
http://www.visitscotland.com/ A helpful guide to the ins-and-around in Scotland
http://www.scotland.com/ A jam-packed online brochure of everything Scotland has to offer visitors.
http://www.toscotland.com Welcome to Scotland! This site will lead you on an incredible journey to attractions and sites.