The Face of Oblivion
Elder Scrolls IV: Oblivion, sequel to hit 2002 RPG Morrowind, exploits the potential of Xbox 360 beyond the hilt. Imagine the thematic depth and intricate storyline of the original game, with the ability to navigate for miles in any direction, over hills and dales, in castles and across chasms, wielding spells and swords and building up your character into a worthy adversary for the angriest daedroth.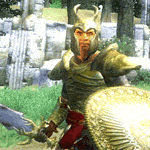 The Face of Oblivion
Um, up for it? Elder Scrolls IV: Oblivion is all this and more. RPG enthusiasts will love the intricacy of every aspect of Bethesda's new masterpiece, with its ability to take your hero/heroine/dark elf through seemingly infinite permutations of fight sequences, inventory upgrades, and costume changes. Add to this some majestic graphics and you've got the category killer on Xbox 360 that Microsoft was looking for.

The Face of Oblivion
The twists and turns of developing a character alone make this RPG worth the price of admission. As you work through way through challenging encounters, you'll find an equal challenge in deciding exactly what attributes, skills, armor -- heck, what exact style of leather boots you would like to be wearing tomorrow. Level ups abound and propel you through the game as you are motivated to explore and fight to develop your character to fresh heights of talents and granular levels of personal preference. more

The Face of Oblivion