Water's Edge brings dancing and nightlife to the Inner Harbor every night of the week. Water's Edge features indoor and outdoor dancing, live bands, the hottest DJs, and lots of contests.
Click here to see tonight's schedule of events!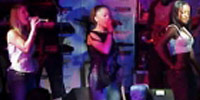 This week, Water's Edge will be featuring local band The Downy Oceans, DJ Pig Nose, DJ Candyshoes, and 80s karaoke. Check the Events link for more information. And don't forget to enter our latest contest to win a trip to New York City!